STARTING ACUMATICA THE CLOUD ERP PROJECT – TAN HUNG CO COMPANY DIGITALIZES ENTERPRISE
January 9, 2018. Patsoft officially deployed Acumatica The Cloud ERP solution for Tan Hung Co company. Manufacturer of colored plastic beads, compound beads, plastic additives in Vietnam. Mark an important step in the plan which use application of information technology in resource management of Tan Hung Co Company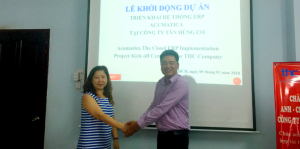 Digital solutions for businesses in the 4.0 technology era. Helps increase competitive advantage in the industry market.
Operating from 1999 until now, Tan Hung Co has stood firmly in the market by its prestige, honest way of working, modern business thinking.
After researching and considering reputable suppliers, Tan Hung Co made a decision. Accompanying with Patsoft – Vietnam's leading ERP solution provider. As a support unit for the overall management of the business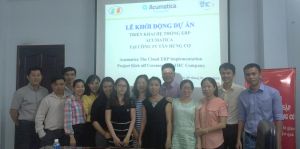 Acumatica The Cloud ERP solution for the plastic industry deployed at Tan Hung Co includes the main deployment modules:
– Sales & Marketing
– Supply chain
– Finance
– Manufacturing
– Smart reporting system – Business Intelligence (BI)
ERP solution is a system software for the digitization of business and production activities of enterprises, data information is provided and analyzed in real time, supporting users to make quick decisions, increase competitiveness and improve operational productivity.
At the ceremony, the representative of Tan Hung Co Company's Board of Directors affirmed that the implementation of the ERP project is an indispensable and mandatory need. In order to meet the current business expansion and development demands and serve the Company's future business development strategy.