COMPLETE ERP PROJECT AT TAPACK COMPANY
The ceremony of announcing the acceptance of ERP project and awarding the license of ERP-B4U took place at Tapack Company
The ERP project at Tan Tien Plastic Packaging Joint Stock Company (Tapack) has been implemented successfully. Application throughout the company from office to factory in Tan Binh Industrial Area, Ho Chi Minh City and branch in Bac Ninh.
Recently, Patsoft and Tapack Company have taken over the ERP project after the implementation period.
The benefits that Tapack gained from the project implementation of ERP solutions
At the acceptance ceremony of the ERP project. The Leadership at Tapack Company made comments on the benefits of Patsoft's ERP-B4U solution system after successful implementation, which are unifying management process and synchronize data on the same system. Support to make decisions and analysis the situation quickly in real time. Thanks to that, it helped Tan Tien Plastic Packaging Joint Stock Company: Optimize time, as well as costs. Thereby increasing profits for the company.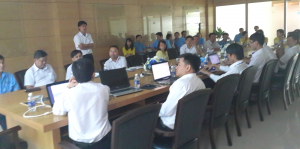 Mr. Phung Minh Triet – Director of Patsoft shared:. "The ERP project at Tapack is one of the big projects. Affirming the ability to consult and deploy, as well as affirm the position of  Patsoft in the ERP market. For businesses in general and ERP for the Packaging – Plastic industry in particular.